David & Melinda Nelson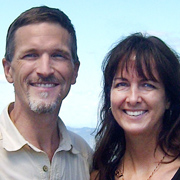 Dave & Melinda Nelson started Flourish & Thrive Ministries to generate foundations that support human flourishing in desperate places.
But I do not account my life of any value nor as precious to myself, if only I may finish my course and the ministry that I received from the Lord Jesus, to testify to the Gospel of the grace of God.   Acts 20:24
Melinda Nelson has been deeply involved in work among the "poorest of the poor" since 1986. At that time, she made her first visit to Haiti and was caught up in one of that country's infamous coups. Not too long after that she joined a mission agency and started living with impoverished people in the dumps of Mexico for several years. During this time she provided logistical and support services to numerous church groups for a variety of projects. They would build basic shelters and latrines, provide living necessities, plant churches and offer encouragement to the exceptionally disadvantaged people living there.
In the 90's Melinda had a five year teaching tenure at Lifeway Bible College in New Zealand. While there she designed and taught courses, led global mission field projects, helped former students create training and service-oriented organizations globally, and acted as chief editor for the college's international publication "Rise Up."
Melinda has two BA degrees from UC Santa Barbara in Zoology and Environmental Studies. In 2017 she completed her Master's degree in Transformational Urban Leadership from Azusa Pacific University.
David Nelson's experience in missions began when he first started courting Melinda in 2001. Since then he has worked on projects in Brazil, India, Haiti, Mexico and Mozambique.
From 1996 through 2000 David worked at Baldwin-Wallace College in the Division of Continuing Education, first as an intern while earning a Master's degree in College Student Personnel from Bowling Green State University, and then as an Administrator and Academic Advisor. During that time he also trained and worked with Ralph Mattson of The DOMA Group as a casewriter/consultant: interviewing, analyzing and documenting Fortune 500 client projects. Utilizing DOMA's process he occasionally provided consulting services to help college students with career development.
In addition to David's people development interests, he is also a skilled artisan in stonemasonry and has operated Granite Forge, a stonework business. His undergraduate degree was a BA in Theology, Theater and Art from Hope College in Holland, Michigan.
I must preach the good news of the Kingdom of God, for I was sent for this purpose. Luke 4:43